Upcoming Events » Music Learning & Discovery - Indian Classical Music Immersion Course taught by Arjun Verma
June 27 - July 2, 2017
Ananda Ashram, Monroe, New York, USA
Courses will be held at Ananda Ashram, Monroe, NY. For more information visit the Arjun Verma at Ananda or contact Ananda Ashram by phone at (845) 782-5575.
"We are living in the times in which direction is the ultimate consideration.
Never underestimate your creative potential"
-Roop Verma
Purpose: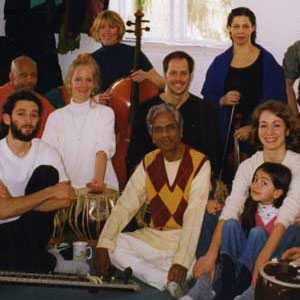 Click to Enlarge
A Six-Day Music Learning & Discovery Course Continuing the tradition established by his father, the late Acharya Roop Verma, Arjun Verma is offering a week-long summer course in North Indian Classical Music. This is a unique opportunity for musicians from all walks of life to explore the playing techniques, repertoire, rhythms, melodic structures, improvisation techniques, performance practice and profound depth of this powerful music..
Participants will learn foundational concepts of tālas (rhythmic forms) and morning and evening rāgas (melodic forms) while developing vocal and instrumental proficiency, skill and control. The versatile concepts taught in this course can also be applied to enrich one's playing of other forms of music, as well as to expand one's general artistic sensibilities.
North Indian Classical Music is not only highly sophisticated and virtuosic, but is also used as a tool for meditation, prayer and spiritual transformation. The traditional repertoire contains precise musical techniques distilled from millennia of artistic development, which can powerfully and effectively support the expression of one's own unique creative voice.
This course is suitable for all melodic instruments and voice, as long as students have a basic playing ability. Beginning sitarists are also welcome, but should inquire ahead of time about special preparation for this course. Rental sitars may be available.
June 27-29, Tue-Thu, 3:00-5:00PM & 7:00-9:30PM*
June 30, Fri, 3:00-5:00PM & Students' Recital at 8:30PM
July 1 & 2, Sat & Sun 10:00AM-12:30PM* & 3:00-5:00PM
* Thu eve. session is offered by Naren Budhakar, and Sun morn. by Deepak Kumar