Biography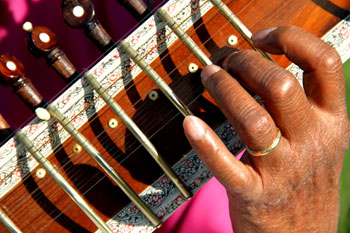 Roop Verma is an internationally respected sitarist, composer and accomplished teacher of Indian Classical and Sacred music. His training comes from two of the greatest masters of our time, Maestros Ravi Shankar and Ali Akbar Khan. He has lectured and taught at major universities on three continents and has delivered celebrated concerts in some of the most prestigious concert halls they have to offer. Among his reputable outreach in music are the healing music and meditation seminars he conducts throughout the world.
I was born in a music loving family of North India and grew up in an environment rich with art and culture. My family and teaching lineages trace their traditions to the spiritual renaissance of ancient and medieval India.
As a child I loved to split apart every toy I played with to investigate "what was on the inside?" In doing so, I discovered my inborn curiosity which led me to realize that in fact I was on an eternal journey of exploration and inner discovery. Thus, without exception I too went through deep self-analysis and made numerous sensitive and tough decisions to discover my greater purpose.
Download Roop Verma's full biography: PDF