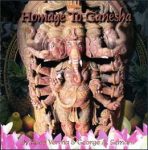 Code: GS0005CD
Price: $14.99
Lord Ganesha is the remover of obstacles and bestower of success & abundance. He is traditionally honored first before paying homage to any other Gods. Homage to Ganesha is a musical work inspired by the spirit of Ganesha to help us overcome our day to day challenges of life. This CD is designed for use in devotional practices as well as being a powerful aid to meditation.
The lyrics have a universal appeal. They are based on a thousands-of-years-old tradition of worshipping and honoring Lord Ganesha, as a symbol of that aspect of the divine who removes obstacles, bestows success and abundance, and radiates wisdom and knowledge. The lyrics are relevant in this day and age to bring humankind into greater harmony individually and universally. This is indicated in these summarizing lines of lyrics:
Rejoice in the Form, Life, Consciousness, Soul and Spirit of the Lord.
Help me, Lord, to recognize You in the earth, water, fire, air and ether.
Help me, Lord, to recognize Your Consciousness in my consciousness,Your Life in my life.
Help me, Lord, to recognize Your Consciousness in every consciousness, Your Life in every life.
Roop Verma on sitar, tamboura, harmonium, conch shell, and lead vocals translated the lyrics into a healing, meditative musical work of art. He is accompanied by the angelic voice of Lorna DiMeo along with a chorus of singers and George Seman on cymbals, synthesized bass tamboura, bass guitar and tabla; English lyrics and chorus vocals.
Produced jointly by Roop Verma and George Seman
1. Homage to Ganesha (Sanskrit version)
2. Homage to Ganesha (Sanskrit/English version)