Courses, Residencies, and Seminars
July 9 – 15, 2016
Ananda Ashram, Monroe, New York, USA
Courses will be held at Ananda Ashram, Monroe, NY. For more information visit the Ananda Ashram Website or contact Ananda Ashram by phone at (845) 782-5575.
"We are living in the times in which direction is the ultimate consideration.
Never underestimate your creative potential"
-Roop Verma
Purpose: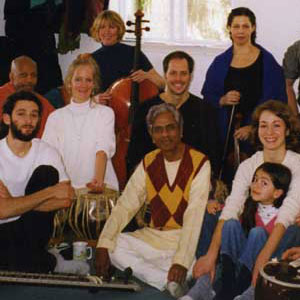 Click to Enlarge
Every summer and winter there is a unique opportunity to study with Roop Verma in the clean air of the upper Catskill Mountain Region in New York State. The two courses are designed to impart a clear and detailed understanding of the principals and techniques of Indian Classical and Creative Music. Through Roop Verma's expert guidance, students will acquire a direct experience of sounds and rhythms, and will explore various dimensions of sound, (Nada, in the Sanskrit Language) as they relate with our inner and outer life and total creative process. Students will learn, in depth, the evolution of notes, scales, techniques, Ragas, compositions and improvisations.
The Two, Three, and Four Weeks courses are available for Universities, Colleges and Conservatories. They incorporate an intense study program and group/individual practice with approximately 18-20 hours per week to suit the needs and schedules of the institutions. Students learn through voice, rhythm and various instruments, to express the unique language of music by developing greater understanding of their instruments.
These courses help the students and professional musicians to establish a strong grounding in their own source of creativity and self expression which will enrich any style of music and can, ultimately, be applied towards discovering one's own musical language.
Classes offered in:
Plucked string instruments: Sitar, Guitar, Harp, Piano, Banjo etc.
Bowed string instruments: Violin and Cello.
Wind instruments: Flute, Clarinet, Recorder and Harmonium.
Tabla and other drums.
Voice